Tesla Motors – Low Cost Electric Vehicles & The Lithium Battery Supply Chain
Mar. 11, 2019 9:54 AM ET|About: Tesla, Inc. (TSLA), Includes: ALBSummary
Tesla Motors has recently made headlines with the release of its lower cost Model S battery electric vehicle which is now available for purchase through the company's website.
A shift in the mass market will create a mass opportunity for the lithium battery supply chain.
A cost-effective mainstream electric vehicle is going to dramatically rattle the lithium supply chain over the next few years and will encourage billions into supporting infrastructure.
Tesla Motors has recently made headlines with the release of its lower cost Model S battery electric vehicle which is now available for purchase through the company's website. The announcement created plenty of controversy between Tesla shorts and longs over the impact of the shift to e- and m- commerce over traditional brick retail locations and the layoffs that were announced. Although the noise around the sales model and company financial position has attracted the attention the real story and opportunity has yet to be told and will quickly evolve.
A mass marketed low cost lithium battery based electric vehicle launched by Tesla Motors (TSLA)is going to force other global automakers to expediate the transition to electric vehicles. For those that have been monitoring and assisting the developments within the industry over the past decade, including myself, are fully aware that large global automakers have been incredibly slow to transition to electric vehicles probably as they have to manage both their existing and next generation business. Tesla on the other hand, simply needs to manage their electric vehicle business which is their existing business – a first movers' advantage in the pure electric battery industry. Now that Tesla has made the transition, they will not only be obtaining business from the luxury component of the market but also from the mass market.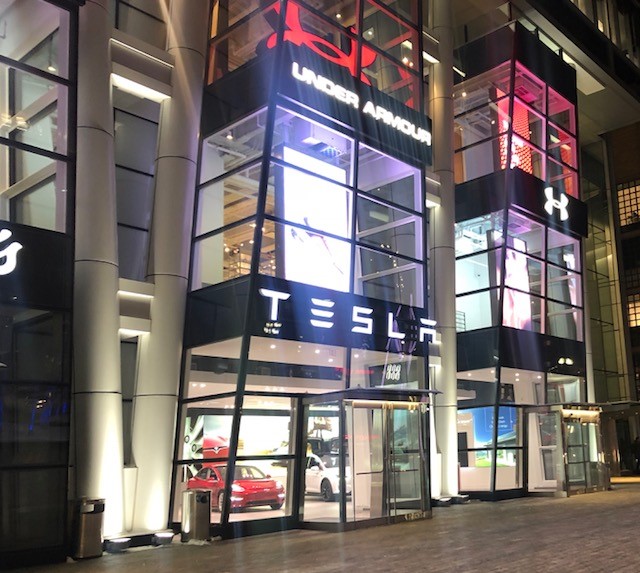 Tesla Retail Store– Prudential Center Boston (Author Supplied)
A shift in the mass market will create a mass opportunity for the lithium battery supply chain. The global shift to passenger electric vehicles is going to open the lithium supply chain over the next 24-36 months which has already been illustrated in demand for lithium chemicals. Thanks in part to Tesla, global consumers and a shift in political support, the transition is occurring at a much quicker rate than industry insiders had expected which is why lithium chemical giant Albemarle has published new demand data in the range of approximately 800,000 to 1,200,000 T LCE in 2025. In comparison, in 2015 the company projected that demand in 2025 would amount to approx. 400,000T LCE. Within 4 years, the company shifted its demand forecast upwards by at least a factor of 2X – a rather incredible situation that clearly illustrates how quickly demand for lithium battery technologies is rising.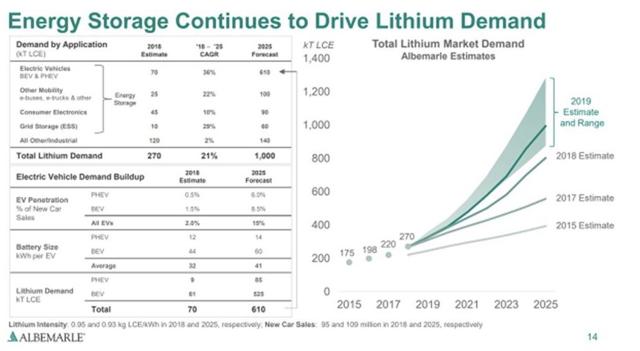 It is in my opinion that the $35,000 Model S electric vehicle announcement by Tesla was exactly what the world audience needed to confirm everything the wide-spread shift to electric vehicles. Now, I am saying that Tesla will have the ability to move the industry forward but it is forcing the other automakers to expediate the transition to new energy vehicles. In fact, if we look at many other markets, it is often that the initial market leader does not have the bandwidth or infrastructure or capital to stay ahead of the industry. Look at the smart-phone industry which was pioneered by Canadian technology firm Research In Motion who held the market leadership role for a period of time but over the past few years has forced to exit the business.
A cost-effective mainstream electric vehicle is going to dramatically rattle the lithium supply chain over the next few years and will encourage billions into supporting infrastructure. Consider that over the next few years, millions of global citizens are going to convert to retire their petrol-based cars and shift to all-electric meaning that millions of new sites will require additional infrastructure investment. Stationary battery technologies, charging stations, support software and electrical distribution equipment and infrastructure will all see their business rise dramatically. Obviously, big money has responded in the past year by acquiring or investing in associated companies that fall in-line with this theme. Major investments have been driven deep into both software and hardware components of the industry including a large number of acquisitions – a trend which is clearly going to continue while take-over targets still stand for the taking.
The other common theme emerging at a local level has been the expansion of solar and electrical contractors and distributors expanding their product offerings to include a number of hardware, software and financial solutions that will support the transition to a more energy demand society. Major heavy-duty bus manufacturers including New Flyer Industries have announced a new operating division focused solely on the implementation of electric vehicle charging infrastructure. Consider that nearly every city in North America will transition to electric buses requiring an abundant amount of investment into this new economy.
The electrification of the passenger vehicle market will ensure that lithium battery remains in tight supply over the next half-decade. Even with all of the large battery production facilities that have been announced it is still difficult to understand how many of them will move to market and if the supply will be sufficient enough to meet emerging demand. Consider that only 4 years ago Albemarle (ALB) was at least 50% off its projected 10-year demand forecast which I view as a major miss. It is clear that market leaders are not connected throughout the supply chain to ensure that material will be available. It is certainly possibly that any component of the lithium battery or infrastructure supply chain misses the mark and does not have the ability to respond quick enough created a shortage of supply for a period of time. This is a whole new industry which still requires tens of billions of dollars to support a wide-scale shift.
Tesla Charging – Hamilton, ONT (Author Supplied)
Rising demand for lithium batteries has seen prices decrease significantly over the past decade but stabilize and slightly rebound around 10% in the past two years. The recent rise in lithium battery prices was primarily associated to limited amount of cobalt being available to supply short-term demand – a great example of what I spoke to in the above paragraph. Specifically, on cobalt, high prices will attract new investment into greenfield and existing projects that will rebalance the market. Further, major battery producers are investing in reducing the amount of cobalt used in battery cells. Lower priced lithium battery systems is creating mass market opportunities that did not exist before including: heavy duty and school buses, ferries, scooters, material handling vehicles, refuse trucks, construction equipment, and stationary storage amongst others applications. Of course, the need to reduce ground level emissions in urban environments will assist expand market opportunities but ultimately mass markets are driven by economics which will only occur if new technologies offer a cost benefit to the user. Collectively, lower cost of lithium batteries and supporting hardware and software is decreasing overall energy storage system costs opening new markets. Assuming that battery supply is available to meet all of these new products then new mass-markets will continue to be unlocked in the next decade.
Looking forward beyond the next decade, all of these lithium batteries will need to be returned and recycled or enter a new life cycle such as second-life batteries used in stationary energy storage applications. For a number of reasons, I do not believe that second-life batteries will land in residential energy storage systems but will be used in large-scale utility energy storage projects ensuring that other battery chemistries such as vanadium are kept at bay. The reality is that thousands of Gigawatt hours of batteries will need to be recycled or used in second-life applications. This situation will be the foundation to bringing cost-effective and reliable power to the global populations. Assuming that financing becomes available for such projects, any parts of the world that currently does not have access to energy will benefit from second-life batteries. Over the course of the lithium battery product life cycle, drivers in first world regions will be able to reduce their carbon footprint and overall cost of ownership but energy users in second and third world regions of the world will also benefit from energy access and availability. In short, the shift to electric vehicles will allow developing regions to leapfrog directly to a distributed energy model. Consider that underdeveloped regions of the world leapfrogged directly over traditional landline-based telecom infrastructure directly to mobile and smart phones.
Despite so much noise around Tesla, the real story is how a mass-marketed electric vehicle is going to place pressure on other automakers to enter the market which in-turn will create a tremendous amount of investment opportunity in the lithium battery supply chain and other industries that are essential to the electrification of the transportation industry. Based on the amount of noise that is in the market, it is clear that very few see how significant the Tesla announcement is regarding the way we as a society produce, store, distribute and use electricity – everything is set to change and with that comes very significant investment opportunities.
Disclosure: I/we have no positions in any stocks mentioned, and no plans to initiate any positions within the next 72 hours.