Global Mass Transit Bus Fleets Accelerate The Shift To Electric Power
Aug. 27, 2018 9:48 AM ET|About: BYD Company Limited (BYDDF)Summary
A significant push towards the electrification of mass transit fleets are under way. Overview of what is happening in the global market and general outlook for the industry.
The Chinese market for pure electric buses in 2017 was nearly 90,000 units, primarily supplied by BYD, which is the largest electric bus manufacturer in China.
In the Fall of 2017, 13 cities, including Paris, Vancouver, Mexico City and Cape Town signed the C40 Fossil-Fuel-Free Streets Declaration, which commits these cities to the purchase of only.
Author's note: Originally published by Blackwall in China. Blackwall is an online information sharing platform aiming to connect people and facilitate information exchange in the commodity world.
Blackwall : Blackwall and Blackwall (@Blackwall_Metal) | Twitter
Livio Filice: LivioFilice (@LivioFilice) | Twitter and https://seekingalpha.com/author/livio-filice/articles#regular_articles
Recent industry scandals concerning emission controls have created a growing international pressure on the automotive industry to cut exhaust emissions. This pressure has expedited the transition to electric vehicles. In the past year, the governments of both Britain and France have said that new petrol and diesel cars will be banned by 2040, while the government of China has also indicated its intention to provide additional support to increase EV production by 2020. In the Fall of 2017, 13 cities, including Paris, Vancouver, Mexico City and Cape Town signed the C40 Fossil-Fuel-Free Streets Declaration, which commits these cities to the purchase of only zero-emissions buses by 2025. As older buses are retired, all of the new buses replacing the existing fleet will be zero-emission transit vehicles. This provides a path for fleet conversions shortly after the specified target date that has already been established
Further, decreasing battery prices coupled with increasing global manufacturing capacity has attracted investments into the entire supply chain, from lithium exploration to battery manufacturing to electric vehicle production. These macroeconomic trends are having a positive impact on secondary applications, which in turn assists the transition to electric drive mass-transit fleets.
The primary objective for municipalities and private fleet operators when switching to electric buses is to decrease ground-level emissions, especially in urban city centers, and to reduce operating costs. Despite ongoing price reductions for lithium batteries, electric buses have a higher up-front cost than mature platforms such as compressed natural gas or diesel. However, as more options become available to the electric bus market, especially from Chinese leaders such as BYD (OTCPK:BYDDF), up-front costs will continue to decline. Fleet operators also take into account multiple variables such as the time to refuel or charge buses, costs associated with establishing and maintaining the infrastructure for refueling and charging, as well as total lifetime ownership costs. Today bus electrification technology can reduce operational costs, because electric buses have no internal combustion engine, no transmission, and no intake or exhaust. As a result, these vehicles are emission-free.
Despite potential cost savings over the duration of ownership, the true advantage of electric buses will be the elimination of ground-level emissions in urban city centers. This is the primary incentive for major Chinese cities to implement and achieve 100% emission-free mass transit fleets. These bold statements from China have encouraged cities around the world to follow the same path. The Chinese market for pure electric buses in 2017 was nearly 90,000 units, primarily supplied by BYD, which is the largest electric bus manufacturer in China. In December 2017, the City of Shenzhen announced that 100% of its 16,000 plus buses were electric.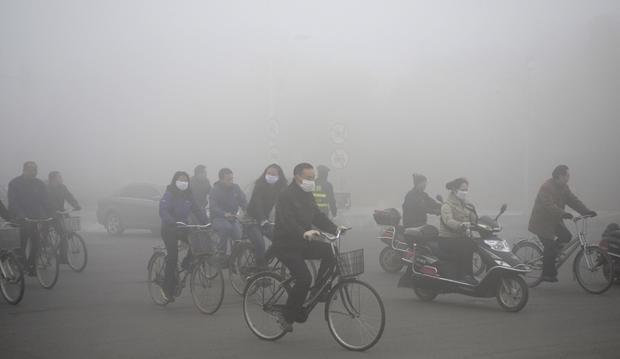 China's smog problem
India is well behind China on the development curve but has begun to establish the necessary foundation for a shift to electric drive. In March 2018, India captured headlines as the Government of India moved to support the purchase of 40 buses for every city under a pilot project. Some cities opted to purchase more than the 40-unit allocation, including Bengaluru at 150 units, Hyderabad at 100 units, and Delhi at 700 units. Collectively, the total purchase amounted to around 1,000 electric buses, primarily being supplied by Tata Motors and BYD.
Although the procurement and deployment of 1,000 initial electric buses is a significant step in the right direct, the higher level developments in India are more indicative of what is happening. In recent weeks, the Indian government has placed mandates on all state-owned mineral-based companies to pool their resources to acquire lithium assets overseas. Without chemicals such as lithium carbonate or hydroxide it becomes difficult for a country such as India to reduce its emissions and deploy next generation transportation technologies.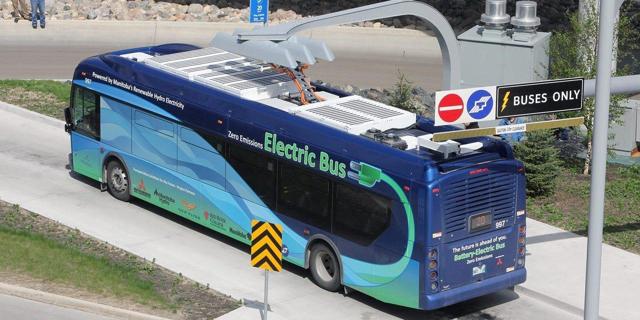 New Flyer electric bus in Manitoba, Canada – Rooftop battery integration and charging design
Over the past year, North American transit departments and governments have only begun to make announcements surrounding pilot projects and long-term objectives. In April 2018, the Toronto Transit Commission announces that it will pilot 60 electric buses and install the necessary infrastructure at various TTC garages; total cost of deployment amounts to over $140 million with a long term objective to go emission-free by 2025. At the same time, New York City announced that it aims to go all electric by 2040 to assist with reducing emissions, fuel consumption and maintenance and health costs. NYC has over 5,500 buses, representing the largest transit fleet in the USA. In December 2017, Los Angeles announced a goal to have an entirely electric fleet of buses by 2030. To initially support these efforts, the Department of Transportation purchased 25 Proterra buses.
Collectively, for a range of reasons there has been a long list of international announcements surrounding the deployment of electric buses. This is a trend that will continue to emerge in the next few years before taking flight beyond 2020, especially in North America and Canada.
As illustrated in the chart below, global deployments of transit buses will continue to increase between the years 2015 and 2022, every major market is expected to see an increase in total buses deployed to over 200,000 units. The movement of global populations into urban city centers is a significant driver for the rise in total deployed buses.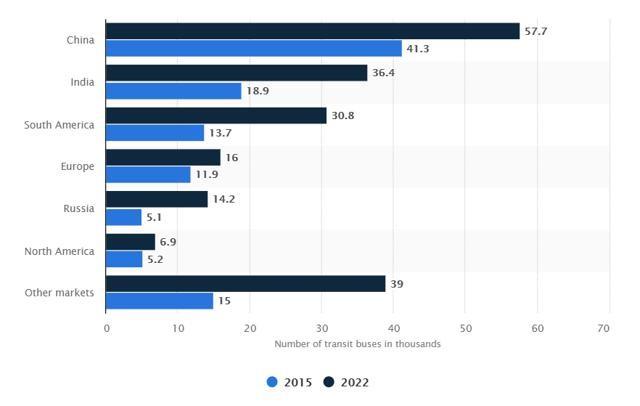 Source: Statista – Projected worldwide number of heavy-duty transit buses in 2015 and 2022, by region or country, in thousands
Beyond the increase of 200,000 units there will also be a large number of replacement buses within the existing fleets. Even electric buses that are on the road today have a limited operating life which will increase that the mass transit bus market becomes a cyclical market for the lithium battery supply chain.
The preceding analysis does not include the potential for private fleet operators and school bus fleets to convert to electric drive. The American school bus fleet which exceeds 480,000 units is larger than the total global transit bus market.
Lastly, the European market is has also begun to adapt electric buses. European urban city centers have high levels of low ground emissions coupled with the ongoing struggle to reduce the continents reliance on imported fossil fuels which will remain as the primary driver to shift to electric drive. Paris has been one of the first to move as they recently established a goal to have a zero emission fleet by 2025. In the fall of 2017, the city begun the procurement process for up to 1,000 electric buses which is the approximate size of the City's fleets. The German government also illustrated its support for the shift to electric buses with a subsidy covering 80% of cost with an initial allocation of 35 million euros. The Northern European countries of Sweden, Norway, Finland and Iceland have made inroads into industry. Iceland and Finland have recently only announced pilot projects while Sweden and Norway are shifting towards shift replacement in major cties. In the first half of 2018, Gothenburg, Sweden announced the issuance of a 30 unit order for electric buses while Olso, Norway announced the procurement of 70 units. The same story is unfolding across Europe with Amsterdam confirming orders for 100 buses, Piedmont, Italy for 23 buses, along with a slew of smaller orders for Spain and Portugal amongst other nations. The City of London already operates the largest electric bus fleet in Europe with more than 2,5000 hybrid electric buses and over 170 all electric business.
Disclosure: I/we have no positions in any stocks mentioned, and no plans to initiate any positions within the next 72 hours.