North American Electric And Hybrid Sales Set New Records
Jul. 7, 2018 4:31 PM ET|About: Tesla, Inc. (TSLA), Includes: ALB, BYDDF, FMC, GM, LGCLF, LIT, PCRFY, SQM, SSNLF, TMSummary
North American new energy vehicle sales continue to climb in the first quarter of 2018.
Tesla Motors accounts for the majority of the increase in electric vehicle sales; Model 3 has the most significant impact on industry sales figures.
In Q1 2018, an estimated 1.5GWh of lithium battery systems were used to support the shift towards new energy vehicles in; this number is expected to continue to rise.
Throughout 2017, the automotive industry grabbed headlines as nearly every automaker announced their strategic plans to bring line-ups of all electric and plug-in hybrids to the market. Recent scandals around emission controls and growing international pressure on the automotive industry to cut exhaust emissions has expedited the transition to these new energy vehicles. Political support for this transition is evident in Britain and France. Both countries openly announced the ban of new petrol and diesel cars by 2040, while the Chinese government is forcing automakers to convert a portion of new production to new energy vehicles starting in 2019.
Since 2017, Chinese, Korean, Japanese, and American battery manufacturers have moved to deploy capital with a focus on increasing lithium battery production and on aligning the supply chain to support a dramatic shift to electric vehicle production. This includes not only investments into battery production facilities but also long-term supply agreements and financial backing for companies developing high-quality lithium and cobalt projects around the world. The industry has already witnessed a decrease in battery cost (from $1,000 / kWh in 2010 to under $250/ kWh in 2016) with the expectation that as these asset values begin to ramp up, the cost for batteries will continue to decline. In the immediate term, there is a shortage of strategic materials such as lithium and cobalt, alongside a shortage in overall battery supply.
In 2017, it became evident that the electrification of the automotive industry is well underway. I expect a significant shift to occur by the end of this decade that will be driven by political, environmental, and economic factors. This shift will generate a tidal wave of investment throughout the supply chain to support the transition to new energy vehicles everywhere.
The entire supply chain, along with its supporting infrastructure, simply needs time to position itself to support the widespread adaption to new energy vehicles. Billions of dollars are being spent to increase global battery and material production; new lithium supply is being brought online in Australia, Argentina, Chile and Quebec; and car dealers are learning how to sell and support these new vehicles. Cities and utilities alike continue to invest in infrastructure improvements, especially for regions which are expected to have high electric-vehicle penetration rates.
The impact of these new and adaptive industry practices in North America is becoming evident in the delivery of monthly electric and plug-in hybrid electric vehicles figures. Inside EVs, a credible and long-standing source of quality information regarding monthly published sales figures for new energy vehicles, has reported a strong Q1 2018. Collectively, North American sales figures for new energy vehicles increased 30% in March on a year-over-year basis. Approximately 55,000 vehicles were reported during the first period, up from 41,800 for a total increase during the first quarter of the year of 24%. While January and February sales only slightly appreciated year-over-year, the March figures certainly show a significant break-away from 2017 figures. Throughout the first quarter, Tesla (TSLA) has brought a noteworthy new supply of electric vehicles to the market across their three electric vehicle models. The Tesla Model 3, which only recently went into production, has experienced a significant increase in sales month-over-month, while the Model S and Model X have also performed very well. The Tesla brand is currently delivering more pure electric vehicles in North America than all other electric vehicle producers combined together.
In Q4 2017, Tesla successfully delivered 26,400 Model S and Model X vehicles and only 1,500 Model 3 units, for a combined total short of 30,000 units. In their most recent letter to shareholders, Tesla has addressed the ramp-up of the Model 3 production which has 500,000 units pre-ordered. The company is actively optimizing its production to allow for an increase in production figures.
Tesla has stated that they are well on track to meet their 5,000 units per week milestone, with plans to increase those figures to 10,000 units per week. In recent weeks, the company has reported that they have exceeded the 3,000 units per week run rate for the Model 3, and exceeded the 4,000 units per week run rate when including all 3 of the company's electric vehicle models. Since then, Tesla has increased production to at least 5,000 Model 3 vehicles per week.
Beyond Tesla, Toyota (TM) has also seen an increase in their Prius Prime hybrid electric vehicle, which has nearly doubled from January to March, while Chevrolet (GM) is ensuring that both their Bolt EV and Volt products remain at the top of the scorecard. Chevrolet has seen the Bolt deliverables consistently grow over the quarter, while the Volt has more than doubled in the same period.
In the hybrid category, both Toyota and Chevrolet have seen deliverables increase over the quarter by around 100%, clearly indicating that hybrid sales are on the rise. On the other hand, Tesla has proven that they can also increase deliverables by the same amount over Q1, as deliverables of all three models have more than doubled. Chevrolet has not seen the same level of success with their electric vehicle which, although increased by nearly 60% throughout Q1, still fell well below Tesla's electric vehicle sales figures. The Nissan LEAF, which started the year at only 150 units, saw a dramatic increase by quarter's end, with 1,500 units delivered in March.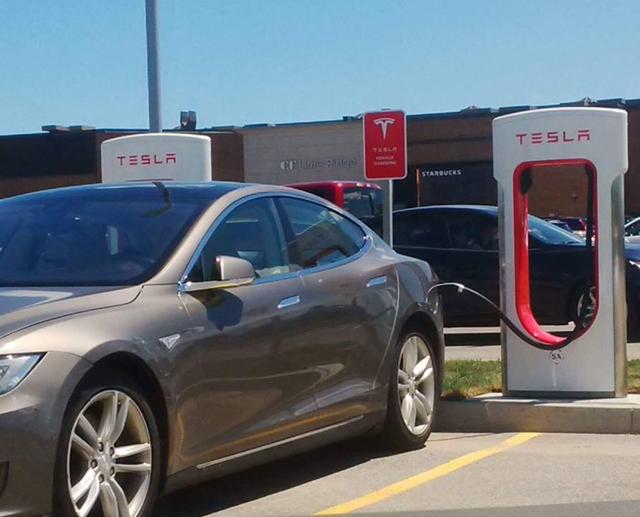 Author supplied – Tesla charging in Hamilton, Ontario at Lime Ridge Mall – June 2018
For the first quarter of 2018, the top seven new energy vehicles represented approximately 35,000 of the 55,000 vehicles delivered, or 64%. The balance of the volume is made up of several hybrid vehicles and some smaller capacity electric vehicles. It is also notable that all major automakers now have at least one vehicle on the scorecard, which is, overall, encouraging: as the list of options grows, the volume of vehicles should also increase.
Breaking down the 55,000 vehicles referenced above, Tesla has the largest-rated battery storage capacity per vehicle of around 80kWh, while the Bolt is rated at 60kWh and the Leaf at 40kWh. The hybrids are rated at a much lower capacity, with the Volt at 18kWh and the Prius Prime at only 8.8kWh. Tesla battery requirements for the quarter reached approximately 800MWh; Chevrolet totaled around 320MWH; Nissan exceeded 100MWh; while Toyota lagged at less than 60MWh. The top players commanded a total of nearly 1.28GWh of battery capacity, while the balance of the 20,000 cars consists of hybrid and smaller-rated electric vehicles. Their blended, rated capacity may be around 15kWh for the remaining cars, representing another 300MWh of battery capacity, for a net demand of over 1.5GWh attributable to new energy vehicle sales in North America during Q1 2018.
Global X Lithium & Battery Tech ETF Provides Good Investment Exposure
One compelling method to invest in the entire supply chain is to acquire units in The Global X Lithium & Battery Tech ETF (LIT) , which invests in the full lithium cycle from mining and refining the metal, through to battery production. The Lithium Global X Fund can provide direct exposure to the entire supply chain through the ownership of shares in various companies. This is certainly a more conservative method of investing, but given the recent decline in shares of lithium producers and some automakers it could provide the right balance between security, industry exposure, and growth.
Investing in energy technologies and energy metal companies can prove to be difficult, so the ETF allows for a basket approach to investing without having to select individual companies.
The Global X Lithium & Battery Tech ETF top holdings during April 2018 included major lithium chemical producers, including FMC (FMC), Albemarle (ALB), and SQM (SQM), and Asian battery manufacturers, including LG Chem (OTCPK:LGCLF), Samsung SDI (OTC:SSNLF), BYD (OTCPK:BYDDF), and Panasonic (OTCPK:PCRFY).
If you enjoyed this article, be sure to receive future material by following on Twitter here and clicking on the "Follow" tab at the top of this page or on my profile here.
Disclosure: I am/we are long OROCF, AVLIF.