Advantage Lithium – Positioned To Attract Strategic Investors
Jul. 2, 2018 5:34 PM ET|About: Advantage Lithium Corp. (AVLIF), Includes: LAC, OROCF, PKXFF, SQM, TM, TYHOFSummary
Advantage Lithium has delivered an updated resource estimate with over 3 million T LCE at Olaroz-Cauchari.
The Olaroz-Cauchari B asin has attracted approximately $1 billion in capital investment Orocobre, which holds a 29% ownership position in the company, is fully funded and continues to move towards.
Advantage Lithium is now well positioned to draw a strategic investor; this is the outlook for the next months.
Joint Venture partners Orocobre (OTCPK:OROCF) and Advantage Lithium (OTCQX:AVLIF) continue to unlock shareholder value in the Olaroz-Cauchari Basin, which is quickly emerging as one of the most important lithium regions in the world. The recent updated resource estimate delivered by the j oint v enture partners moved the resource from 500,000 T LCE to 3,000,000 T LCE, which was on the high side of my expectation. Strong long-term demand for electric vehicles and stationary energy storage systems i s supporting a significant increase in global lithium battery manufacturing. To support the movement to electric transportation, capital continues to be invested into high-quality lithium assets by both end-user s and strategic investors.
In recent weeks, the Indian government has mandated that all s tate-owned mineral-based companies must pool their resources to acquire lithium assets overseas. This important development in India continues to support my investment thesis in the lithium business, which remains unchanged: invest in late-stage exploration and early-stage production companies along with companies that offer some form of strategic value, such as a well-positioned land package or end-user relationship.
Japanese, Korean, Chinese and now Indian companies are mobilizing capital to secure high-quality lithium assets. It is in my opinion that Advantage Lithium is one of the few advanced lithium exploration companies positioned to benefit from a global race to acquire lithium assets or secure long-term supply of the white metal.
The recent pullback in shares of Advantage Lithium is unwarranted so I have moved to increase my position during this period of weakness in the equity markets. In fact, the company's management team seems to agree with my view, as they recently acquired a small amount of stock in the open market; David Sidoo purchased 15,000 at $.88/share and Nick DeMare purchased 10,000 at $.89/share. This is a general practice that is deployed to send a positive message into the market. Based on recent developments as outlined throughout this document, I rank the company as a buy for lithium investors in 2018 and 2019.
Olaroz- Cauchari Basin attracts nearly $1 billion in investment
The Cauchari-Olaroz Basin has attracted nearly $1 billion in capital investments from companies, including: Toyota Tsusho (OTCPK:TYHOF), The Bangchak Petroleum Public Company, Ganfeng Lithium, SQM (SQM), Lithium Americas (OTC:LAC), Orocobre and Advantage Lithium. In January 2018, Toyota Tsusho announced that it would acquire a 15% equity stake in Orocobre in consideration for a $300 million investment.
Right now in the basin, Orocobre and Toyota Tsusho are building out their ponds and production facility to increase nameplate capacity from 17,000 T LCE per year to over 40,000 T. Lithium Americas is now in the construction stage of its flagship lithium production asset, while Advantage Lithium continues to drill to further define the resource, especially at depth. There are only a few other regions in the world that are rapidly expanding production capacity while supporting ongoing exploration activities that will lead to additional production in the next years. It is in my opinion that this region is receiving the necessary capital to become an important source of lithium and to ensure that there are enough development efforts to bring new capacity to market beyond 2020. Between all three companies, a total of nearly 20 million T LCE has been defined, while future production capacity will exceed 100,000 T LCE shortly after 2020.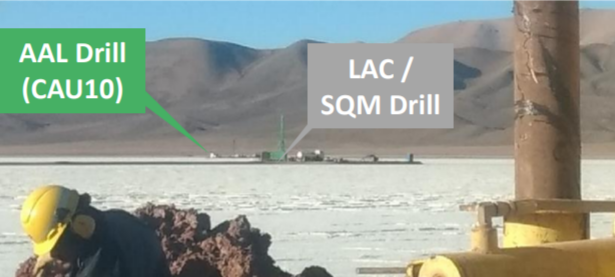 3 Million T LCE resource at Olaroz-Cauchari
Since September 2017, the company has delivered regular updates to shareholders surrounding the exploration efforts at Olaroz-Cauchari. On May 23 rd, the company reported a resource estimate at the higher end of the expected target, in the 3 million T LCE range. As noted below, the resource is still open at depth so the company will certainly expand and confirm the size and quality of the resource. Phase 3 exploration has already started.
Here are the key takeaways from the updated resource estimate:
6-fold increase from 500,000T LCE to 3 million T LCE.
The company has completed a 43-101 compliant resource, a significant milestone for junior exploration firms.
Phase 2 drilling is now completed, including an expansion to the Southeast zone and previously unexplored Northwest zone.
Phase 3 drilling will continue to expand the basin at depth as none of the boreholes have reached the basin floor, creating the potential for the resource to be further expanded.
The brine chemistry continues to reflect that of Orocobre's Olaroz project, with a magnesium to lithium ratio averaging 2.5.
Orocobre is the largest investor in Advantage:
In March 2017, Orocobre announced the completion of the sale in Argentina of certain non-core exploration properties to Advantage Lithium. In consideration for the land package, Advantage issued over 46 million common shares to Orocobre, including the retention of a 25% stake in the project, plus a royalty fee on production. As of June 2018, Orocobre was the largest shareholder at 29% and m anagement, insiders and others associated with the company controlled 22%.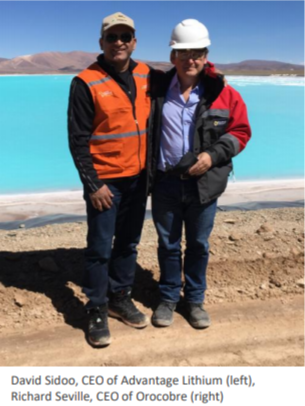 Orocobre now remains a sizable shareholder in Advantage Lithium and will be the key for success at the Cauchari project. First, Orocobre brings local expertise as it has already gone through all phases from exploration to commercial production in Argentina. The same exploration team that advanced Orocobre's efforts at Olaroz are behind Advantage Lithium which has been a critical to moving the project forward as quick as it has.
Second, Orocobre has a very strong partner at its side, Toyota Tsusho. Tokyo- based Toyota Tsusho Corporation South Sea Corporation, a member of the Toyota Group, is one of the largest trading companies in Japan and the 6th largest in the world. The company has a worldwide presence through its many subsidiaries and operating divisions, which include over 900 subsidiaries represented through 150 offices. The company's main goal is to support Toyota Motor's (TM) automobile business and other Toyota Group companies through the supply of strategic material and components.
Although this is purely speculative in nature, it is highly probab le that Orocobre or Toyota Tsusho have identified one or more potential strategic financial or off-take partners. Orocobre has brought to market the only lithium brine asset in over 20 years, which should have allowed the company and its partner to establish deep relationships within the lithium supply chain.
Collectively, Orocobre is flush with cash to financially support their component of the development efforts, bring an invaluable amount of expertise and supply a network of local and international contacts.
Phase 3 drilling efforts commenced during the month of May 2018 and it is now expected that this activity will be followed by a Preliminary Economic Assessment in June or July. The objective of this assessment is to define the overall strategy on how the joint venture intends to move the project forward. The Preliminary Economic Assessment will allow the company to evaluate project development options and establish the preliminary project economics.
Based on the company's most recent current cash and investment holdings coupled with stock options and warrants outstanding, the company is fully funded through the Preliminary Economic Assessment and the Phase 3 drill program.
Based on financial statements reported on June 29, 2018 for the period ending April 30, 2018, the company held the vast majority of its short-term assets in cash, amounting to $10.6 million of a total $11.1 million in short-term assets. The company has approximately $500,000 in current liabilities and has zero long term liabilities. The company held over $1.5 million in equity investments including 298,000 common shares in LSC Lithium and 4,900,000 shares in Pure Energy Minerals. During this nine- month period the company sold over 500,000 shares of LSC Lithium for proceeds of $569,000.
In addition, there are approximately 18 million warrants outstanding as of April 30, 2018 at a weighted average exercise price of $.94/share. 4 million of these warrants are set to expire by the end of October 2018, with the balance expiring by the end of February 2019. Orocobre holds 2.2 million of the total warrants outstanding. A total of 7.4 million stock options were reported as of April 30, 2018 with a weighted average exercise price of $.64/ share. The expiry dates for these options vary between the dates of June 2018 to April 2023.
Collectively, between the cash on hand, investments, warrants and options available for exercise, the company could have access to approximately $30 million to support near-term efforts. However, the bulk of this amount is contingent on the exercise of warrants and stock options.
In addition to Advantage Lithium's strong short-term financial position, Orocobre, as of March 31, 2018 held nearly $400 million in cash.
Based on the current exploration developments and positive capital positions of both Orocobre and Advantage Lithium, the company is on track to deliver a Definitive Feasibility Study in early 2019.
Risks – Market sells off advanced exploration companies
Notwithstanding my deep understanding of the lithium supply chain and my bullish outlook for the industry, there are many risks associated with advanced exploration companies, including Advantage Lithium. It is important to note that my bullish stance on the industry is reflected in the acquisitions and off-take agreements completed by major end users of lithium chemicals. It is in my opinion that this is the key fundamental driver to determine the current situation surrounding supply and demand. The recent movement by India to secure overseas lithium assets and Nemaska's $1 billion capital raise continue to reinforce my bullish view on the market.
Unfortunately, there is a major disconnect between the reality of the situation and the perceptions of equity markets. It is in my opinion that the recent sell-off in shares of Advantage Lithium was undeserved and reflects risks associated with junior exploration companies. With their announcement of a 3 million T LCE resource, I do not foresee many other risks associated with an investment in Advantage Lithium.
Stock Price Valuation
As I have outlined in previous articles, based on both the Lithium X and POSCO(OTCPK:PKXFF) transactions in Argentina, this size resource estimate places an implied value of over $2/share on Advantage Lithium. It is in my opinion that the purchase of shares in the company will continue to move forward over the balance of 2018, with the potential to exceed $2.00/ share. At current trading levels below $1.00/share, this allows investors to accumulate a position in the company that permits exposure to significant amount of upside.
It is important to note that my position on the valuation of the company is shared with several Canadian based equity research firms, including the following: Eight Capital recently updated the target price to $2.50/share from $1.90/share; in May 2018 Cantor Fitzgerald initiated coverage with a price target of $2.00/share, National Bank of Canada has initiated coverage with a target of $1.90/share and Cormark Securities initiated coverage with a price target of $1.85/ share.
Development path defined for 2018 and 2019
Phase 3 drilling commenced in May 2018 with the primary goal of further defining the basin, especially at depth in the Southeast zone. This effort will allow for an updated resource estimate in late 2018 to early 2019, while the overall exploration efforts under Phase 3 will continue until over the next year.
T he updated natural resource estimate was delivered after the completion of Phase 2 drilling. It is now expected that the company will deliver a Preliminary Economic Assessment in July 2018.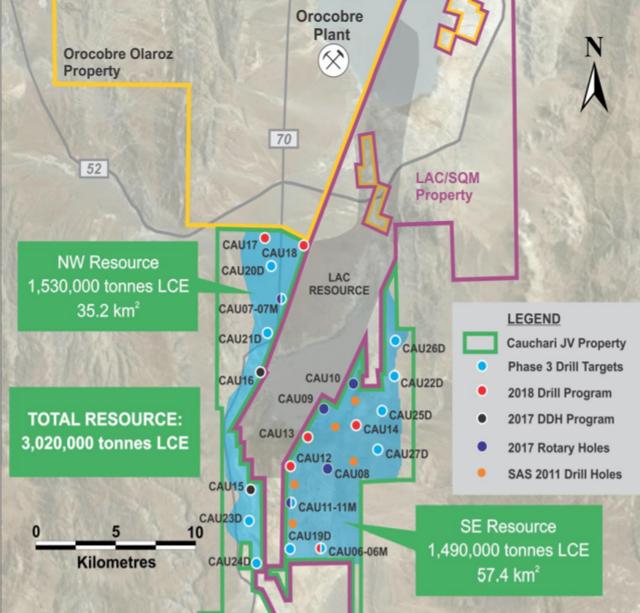 The PEA should allow the company to advance discussions with strategic investors and off-take partners looking for a method to enter the Olaroz-Cauchari basin. Taking into account the recent success that Nemaska achieved in raising $1 billion in capita l, along with the ongoing announcements from automakers surrounding the global shift to electric drive, I fully anticipate that the company will bring on partners shortly after the PEA is delivered.
Beyond the PEA, the company is expected to release its NI43-101 Feasibility Study by the end Q2 2019. In the first half of 2019, the company expected to complete the design and commence construction of the evaporation pond and wells, secure all approvals(including environmental approvals), and complete the Definite Feasibility Study. Process i nfrastructure c onstruction is expected to begin in Q2 2018 and take at least one year to complete, with plant commissioning expected to occur in Q2 2020.
For additional information, please view the company's June 2018 investor presentation.
If you enjoyed this article, be sure to receive future material by following on Twitter here and clicking on the "Follow" tab at the top of this page or on my profile here.
Disclosure: I am/we are long OROCF, AVLIF.