Thermal Energy International Provides Exposure To The Growing Energy Efficiency Market
Jan. 23, 2018 9:21 PM ET|About: Thermal Energy International Inc. (TMGEF)Summary
Thermal Energy backlog is now largest in company history.
Company has achieved record revenues in past fiscal year; on track for revenue growth year-over-year.
Growth continues on a strong backdrop for energy efficiency technologies and robust global macroeconomic trends.

Livio Filice
In December 2016, at the company's Annual General Meeting in Ottawa, Thermal Energy International (OTC:TMGEF) outlined their strategic sales and product strategy for 2017 and beyond. The plan included a ramp-up in sales and marketing activities including first orders for the recently launched "Super-Efficient Cogeneration" product. Based on the year-end results issued on September 25, 2017, the company exceeded investors' expectations on both top and bottom line figures. The company executed exceptionally well throughout FY2017, and 2018 is shaping up to be another record year for the organization. In late 2017, the company announced its single largest order ever: to supply turnkey solutions to an Ontario-based pulp and paper customer. The order, valued at $11 million, will see the company equip the mill with a FLU-ACE heat recovery system and GEM Steam Trap systems.
The energy-intense pulp and paper mill will see a reduction in natural gas consumption by up to 35% while reducing its annual greenhouse gases by more than 20%, or over 40,000 metric tonnes. This equates to the removal of over 9,000 passenger vehicles from the road and has the same net benefits of installing 11 large-scale wind turbines with a CAPEX of $47 million. This clearly illustrates that energy efficiency continues to remain the lowest cost source of fuel for industrial users.
In FY2017, Thermal Energy had proven its ability to sell, build, and install over $10 million in energy efficiency products year over year. In September 2017, the company reported a backlog of $9 million in new sales with the majority of the contracts scheduled to be completed in FY2018. Over the past 24 months, the company has illustrated that they have the ability to grow relationships with multi-site customers while onboarding new customers. The company has also increased the number of sales contracts, which has reduced reliance on mega projects, allowing for consistency in revenue reporting and sales management.
The $11 million order is certainly outside the company's normal contract value as it illustrates a shift in the company's focus from providing energy efficiency hardware to delivering turnkey solutions for energy-intense manufacturers. In 2017, the company expanded their product offering to include Super-Efficient Cogeneration Heat Recovery technology, which allows the company to maximize sales revenue per site and offer additional value to both existing and new clients.
Looking into 2018, the addition of the $11 million pulp and paper order should lead to an increase in revenue year over year. With the well-rounded hardware technology product portfolio coupled with a shift to full turnkey energy efficiency solutions, such as illustrated in the recent pulp and paper mill deal, it could be expected that other such larger valued opportunities are in the pipeline. In August 2016, shares in the company rallied from $0.04/share to $0.20/share before retreating to the $0.10/share range. Since then, there has been lackluster demand for shares in the company and a flood of sellers has capped the upside in share price value. These factors have allowed the company to trade in a range from $0.08 – $0.14/share, which has proven to be profitable for short-term stock traders but has been frustrating for long-term shareholders. Although there are no guarantees of ongoing success, the company has taken steps to move the business in the right direction on the backdrop of a favourable global initiative surrounding energy efficiency.
Thermal Energy is a penny-stock investment opportunity for investors with a level of appetite for risk and who are looking for exposure to the growing macro-environmental trend around energy efficiency. At this point, the company does not require any capital; has a solid backorder of between $15 – 20 million, including the recent order; has expanded the sales team into new key regions, such as Germany and Eastern Europe; and remains profitable with a small cushion of capital in the piggybank. The macro-environmental and economic situation has never been stronger as energy-intense users look for cost-effective technology to assist in reducing both energy consumption and emissions.
Background on Thermal Energy
The company, located in Ottawa, Ontario, is an established global supplier of proven and proprietary energy efficiency and emission reduction products for industrial, commercial, and institutional clients. The company is a virtual manufacturer with sales and support offices in Canada, UK, United States, Italy, and China. At present, the sales organization has direct extensive coverage into primary target markets with some reach into secondary markets through support agents and distributors. In CY 2016, the sales force was further expanded to include additional representation in Eastern Canada, the Caribbean, and Latin America along with Germany. Notably, the company has achieved minimal penetration in Germany and Eastern Europe, which both represent tremendous growth opportunities. Shares in the company are traded under ticker symbol "TMGEF" and on the TSXV under "TMG."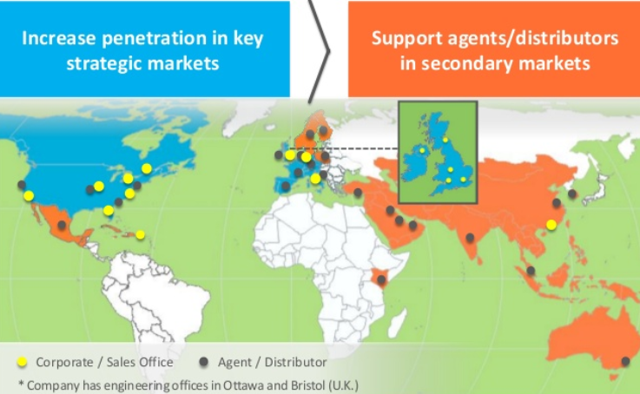 Growing global sales presence (www.thermalenergy.com)
Thermal Energy is a unique, product innovation company with an established portfolio of proven goods that directly reduce fuel consumption for a variety of energy-intense end users. The global sales organization has already generated tens of millions in revenue throughout various continents and is well position with a considerable backlog of approximately $9 million and does not require any additional funding to grow the business. Thermal Energy provides investors a proven product offering with compelling cost savings of one to three years, strong FY2017 revenues, and strong backorder for the balance of FY2018. Furthermore, the company already boasts a confidential list of Fortune 500 companies that have become target clients for the recently launched Super-Efficient Cogeneration system, while new customers can benefit from the full product array. Notably in 2016-17, the company locked in a number of new institutional customers, which proves an avenue for cross- and up-selling tactics.
Strong Fiscal 2017 Financial Report and Backlog
On September 25, 2017, the company reported exceptionally strong financial results for FYQ4 of $4.8 million compared with $4.1 million year over year. Strong Q4 revenue and gross profits assisted with an overall strong FY2017 report. For FY2017, the company increased revenue by 6.4% to $13.2 million, and gross profit by 9.5% to $7.4 million. Net income for the year was reported at $390,000 along with an increase in available working capital to $1.4 million, up from $1 million year over year.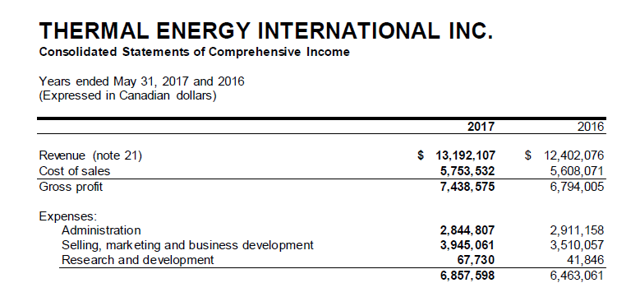 Source: Thermal Energy Sedar Filing 09.25.2017
The company's balance sheet remains strong with a net cash position increased to $3 million and little to worry shareholders, especially considering the strong visibility into FY2018 sales guidance. Long-term liabilities remain nearly zero, indicating that the company has not absorbed long-term debt despite dramatically increasing top line revenue over the past two years. The company appears to be fully funded to continue expanding sales and marketing resources and support the Super-Efficient Cogeneration product.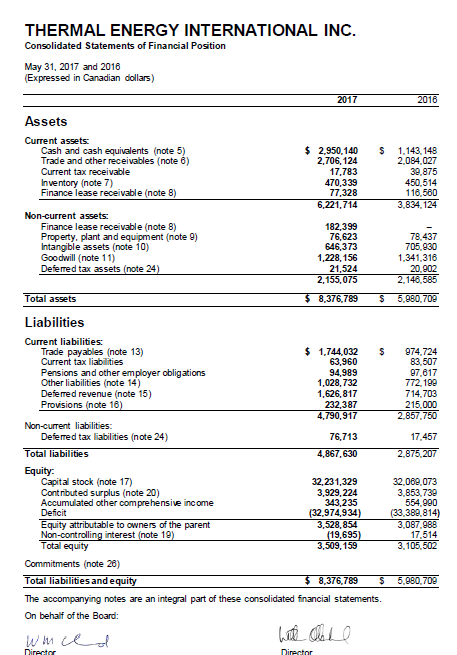 Source: Thermal Energy Sedar Filing 09.25.2017
Thermal Energy's management team provided the following comments: "Our record highs in revenue and gross profit in fiscal 2017 are the result of the successful execution of our strategy on multiple fronts," said William Crossland, CEO of Thermal Energy. "We gained new customers; sold more to existing customers; and continued to develop our corporate accounts. We also launched our new 'Super-Efficient Cogeneration(TM)' service offering during the year, subsequently announcing our first project under this offering at the end of August. Importantly, this provides us with another complementary service to sell to both existing and prospective customers. We look to build on our momentum and capitalize on the very favourable market conditions we have been witnessing around the world for emission reduction and energy efficiency solutions."
Company Reported Strongest Backlog Ever
Over the past 24 months, Thermal Energy has gradually been building up its sales order book, which was around $5.7 million in FY2016, $7.3 million in FY2017, and stood at $9 million as of September 22, 2017. This is a clear indication that the company's sales team continues to grow the sales pipeline and effectively convert them into customers.


Source: Thermal Energy Sedar Filing 09.25.2017
Orders included in the backlog were received from a leading Fortune 500 food and beverage customer for a total consideration of $3.28 million plus a considerable list of projects with partners that are ongoing. It is expected that the vast majority of the projects will be completed with the balance of revenues reported in FY2018.
On November 2, a follow-on sales announcement was released as the company secured a new order for a FLU-ACE heat recovery system for a major hospital group valued at $1.25 million. This new order was a follow-on from an order placed by the same customer in CQ4[MM1] 2016.
Product Portfolio Delivers Impressive Returns While Reducing Emissions
At present, the company is aggressively marketing two product lines, which are branded FLU-ACE and GEM. FLU-ACE is a direct contact, condensing, heat recovery system that has the capability to recover up to 90% of wasted energy and recycle it back into a facility's processes. Key product benefits include the reduction in energy consumption on boilers by 10% to 20%, full system payback in two to four years with ongoing system savings over the 20-plus-year system lifespan. Furthermore, the FLU-ACE system will contribute to the reduction in greenhouse gases emitted by the facility.
The second product offering is the GEM steam trap, which is the most efficient and reliable steam trap available on the market today. GEM allows for permanent energy savings, has a 10-year performance guarantee, and reduced maintenance, which all contribute to the system payback. Unlike a conventional mechanical trap, the GEM is sized to specifically meet the requirements of each application and recognize less steam loss than conventional systems. By switching to GEM on a facility's distribution lines and processes, the same amount of hot water is produced and consumed while reducing steam consumption by over 10%. It is estimated that up to 20% of a facility's steam is lost through steam trap systems, which allows GEM to show a typical 10% reduction in fuel cost, translating into a 12- to 24-month payback period.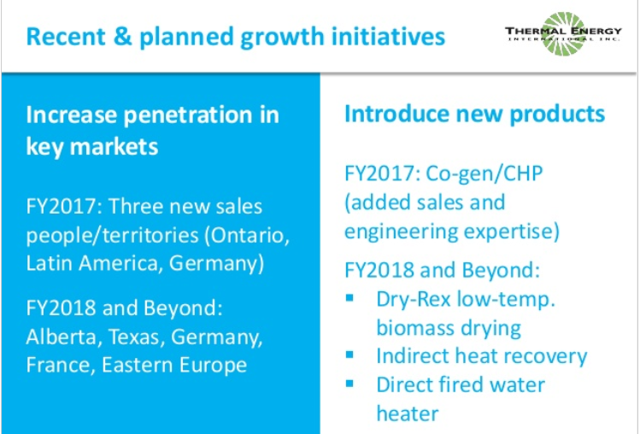 Thermal Energy product roadmap (www.thermalenergy.com)
The customer base for such solutions varies greatly, including target customers in food and beverage, pulp and paper, hospitals, pharmaceuticals, chemicals and petrochemicals, and other industrial sectors. Both product lines save money for the users and improve their bottom lines by reducing fuel use and cutting their carbon emissions while reducing plant maintenance expenses. Collectively, the technologies have been deployed throughout hundreds of facilities, including a large number of Fortune 500 and other leading multinational companies.
---
[MM1]Is the C supposed to be there?
Disclosure: I/we have no positions in any stocks mentioned, and no plans to initiate any positions within the next 72 hours.